A pool can be more than a place for the family to play in and keep cool during the hot summer months. Adding a water feature to a pool will add additional purpose to the pool. A water feature can give the pool year round beauty and add value to a home. Water features not only provide visual enhancement to the yard but also can provide the soothing sounds of running water. The soothing sounds of the running water can also help to drown out the nearby noises, such as traffic.
There are many forms that water features come in. Here are some of the more popular varieties:
Waterfalls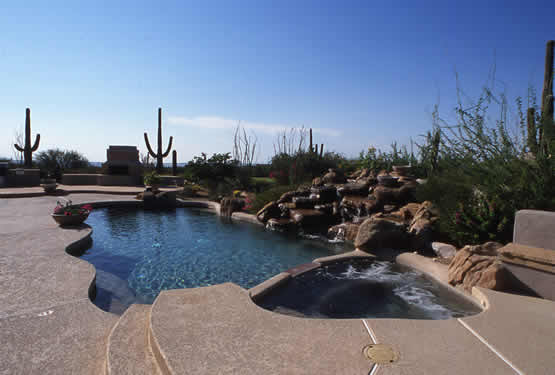 Waterfalls are among the most popular water features added to today's pools. Using real boulders or boulders made of cultured stone, the water is pumped from the pool to the top of the mound of boulders. The water cascades down the boulders, creating a soothing natural waterfall sound.
In addition to the waterfall, some choose to add a grotto area, creating an area beneath the waterfall to enhance their pool's enjoyment.
Scuppers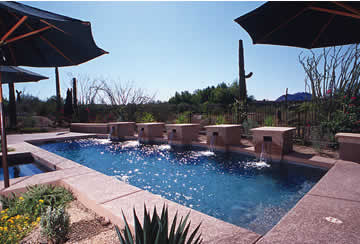 Scuppers are fixtures attached to walls or columns where the pool's water is pumped to and spills out. Scuppers add an elegant look to a pool. The scupper material can vary from copper to ceramic. Scuppers are often used in traditionally styled pools.
Sheer Descents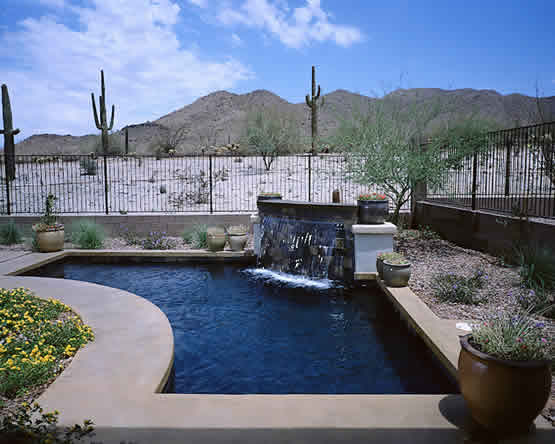 Sheer Descents are a cross between scupper and a traditional waterfall. The sheer descent utilizes a continuous sheet of water to fall from the wall. Like a scupper, the sheer descent is a fixture that pool's water is pumped to. The width of the sheer descent is wide like that of a waterfall, creating a nice soothing sound.
Fountains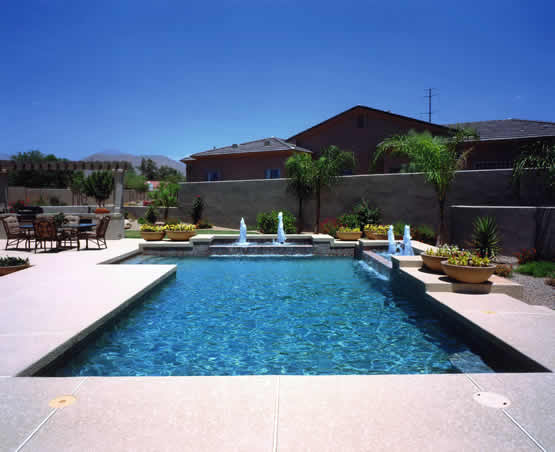 Fountains may not be as popular as the other water features, but they are growing in popularity. With a fountain, your pool can be transformed to a mini-Bellagio, throwing the water up into the air and falling back into the pool. Fountains can be expensive, especially if you would like for them to dance,